Ultrasound gel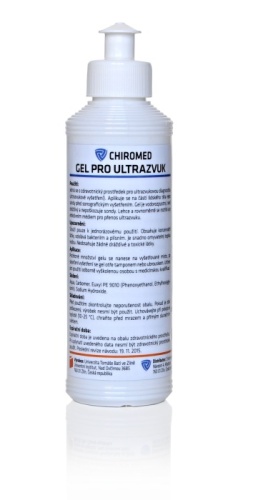 Code: 2.01.250
Medical device for ultrasound diagnosis / ultrasound examination. It is Applied to body parts or probe before the sonographic examination. Gel is water-soluble, not irritating and does not damage the probe. Gel is lightly and evenly spreadable and is an effective medium for transmitting ultrasound.
Recipe
Carbomer - Polygel CA (gelling agent)
Voda (demineralized)
Euxyl® PE 9010 (preservatice additive)
Sodium hydroxide (pH regulator)
Packaging
250 ml bottle with push-pull cap. The bottle is made of soft plastic (LDPE) and allows not only an easy application of the gel, but also to use the entire contents of the bottle completely.
Transport packaging
Cardboard: 550 x 160 x 190 mm
No. of products in package: 33 pcs (bottles)
Total volume in package: 8.5 l (litres)
Weight: approx.: 9.2 kg


Safety warning:
For single use only. Contains a preservative additive, bacteria and mould resistant. Easy washable with warm water. Contains no irritating or toxic substances.

Application:
The required amount of gel is applied on treated part or probe. After treatment the gel is wiped with swab or tissue. Designed for professionals and trained person with medical qualifications.

Caution:
Before use, check the intactness of the packaging. If the package is damaged, the product must not be used. Store at room temperature (10-25 ° C). Protect from frost and direct sunlight.